ecoCEO™ - the game
During the game, players run a company producing electronic goods, such as microchips, smartphones and e-bikes. They need to make decisions on resource management, production processes and revenue models to apply. By combining different investments, they can improve the performance and profitability of their company. However, unforeseen events can complicate their plans!
The game shows the impact of linear and circular business strategies on the performance of a company and its resilience against external events such as policy measures, market disruptions and availability of resources. It teaches students about the relevance and the opportunities of circular strategies such as recycling, take-back systems, reuse and repair activities and product-service systems.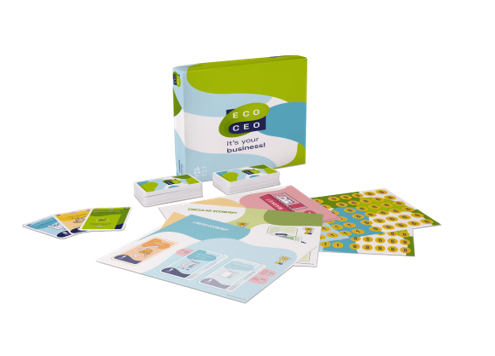 Print & Play
The ecoCEO™ game can be downloaded in the download center, together with the manual and a teacher's guide with practical guidelines on how to embed the game in the classroom.  
Learning objectives
Learnings on circular economy
During the game, players learn:
The basic principles of entrepreneurship and company management.
The difference between linear and circular economy business models.
The basic concepts and strategies of a circular economy, such as recycling, take-back, reuse, design-for-repair, product-service systems.
The impacts that resource scarcity and other external events can have on a company.
To manage resources, personnel, investments and capital in a simplified company context.
To translate theoretical concepts and definitions on circular economy to practical actions and real-life examples.
Links to school curriculum
EcoCEO™ introduces circular economy concepts, but also contributes to achieving the attainment targets for higher secondary education among different European countries and regions. For Flanders (Belgium), Germany, Italy and Estonia clear links will be provided to economics, science, ethics and geography curricula. Additionally, the game meets many cross-curricular learning goals. 
Teacher's guide
In order for ecoCEO™ to reach its full potential, a teacher's guide is available, with practical guidelines on how to embed the ecoCEO game in class.
Under development, expected Sept 2019