ecoCEO - it's your business
During the game, players run a company producing electronic goods, such as microchips, smartphones and e-bikes. They need to make decisions on which resource management, production processes and revenue models to apply. By combining different investments, they can improve the performance and profitability of their company. However, unforeseen events can complicate their plans!
The game demonstrates the impact of linear and circular business strategies on the performance of a company and its resilience against external events such as policy measures, market disruptions and availability of resources. It teaches students about the relevance and the opportunities of circular strategies such as recycling, take-back systems, reuse and repair activities and product-service systems.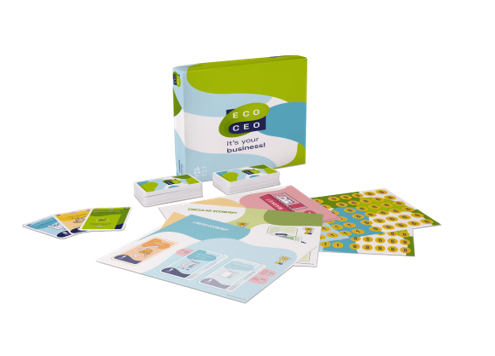 Print & Play
The ecoCEO game can be downloaded in the download center, together with the manual and a teacher's guide with practical guidelines on how to embed the game into the classroom.
Learning objectives
The aim of the ecoCEO game is to educate secondary school students on the relevance, roles and opportunities of the circular economy, as well as the challenges arising. The game fosters discussion about sustainable entrepreneurship, resource scarcity, waste management and business strategies.
During the game, players learn:
the basic principles of entrepreneurship and company management
the difference between linear and circular economy business models
the basic concepts and strategies of a circular economy, such as recycling, take-back, reuse, design-for-repair and product-service systems
the impact resource scarcity and other external events can have on a company
to manage resources, personnel, investments and capital in a simplified company context.
Application in the classroom
ecoCEO introduces circular economy concepts, but also contributes to achieving learning outcomes for a broad range of subjects, including economics, geography, sciences and ethics. Additionally, the game meets many cross-curricular learning goals and is well-suited for a project-based approach.
A teacher's guide is available with practical guidelines on how to embed the ecoCEO game into the classroom.
The game-play learnings can be further enriched by complementing the game with other educational activities that can be downloaded from the 'Teaching activities' page.